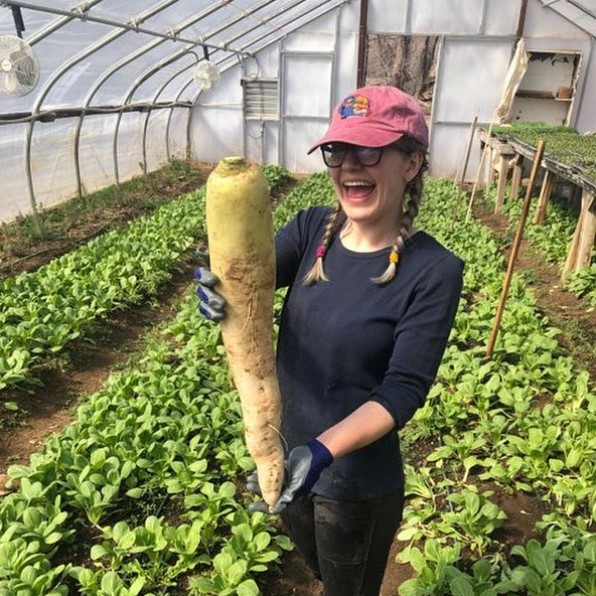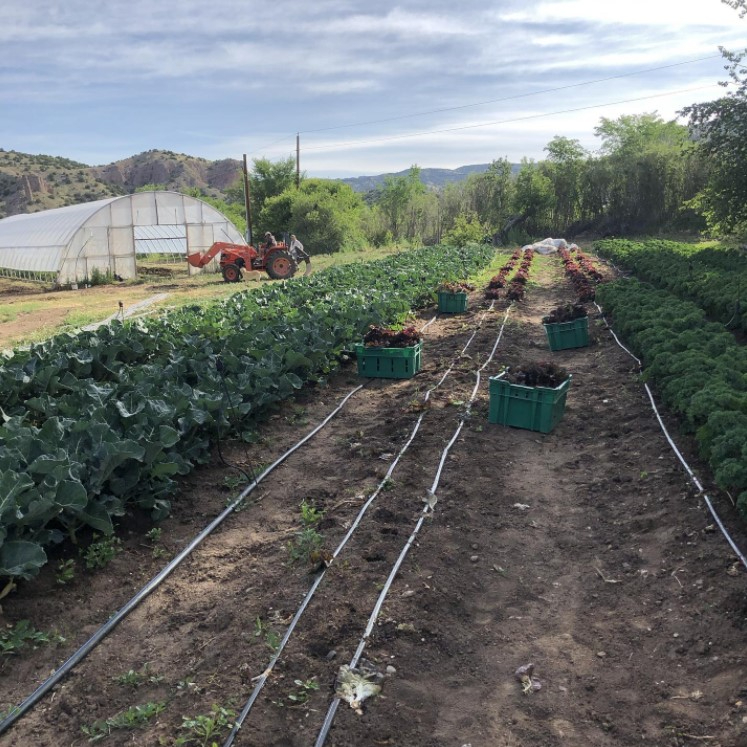 Romero Farms
City: Dixon, NM,
Email Address: mattemilyr@windstream.net
About Us
Edible Magazine Interview:

After graduating Española Valley High School in 1976, Matt Romero left the valley and ended up cooking for his aunt's restaurant in Colorado. He soon began cooking for a group of restaurants in Crested Butte, eventually becoming an executive chef at age twenty-five. Moving on, he relocated with another restaurant group to Larimer Square in Denver, where he opened three concept restaurants over ten years. Romero eventually returned to New Mexico and worked in several kitchens, including the Coyote Café, then dipped his toes into agriculture as a caretaker on his wife's family orchard/vineyard. He had accepted an executive chef position at a newly opened casino restaurant, but, Romero says, "After six months of frustration, I called my wife and told her I was quitting my job to become a farmer. The first year, I leased a small orchard and grew a garden. The second year, my uncle leased me his land, loaned me use of his tractor, and gave me some of his prized chile seeds, Alcalde Improved. Over the next few years, I investigated drip irrigation and took the plunge into becoming certified organic." Romero added more vegetable varieties and attended more farmers markets, reaching out to restaurants and developing a farmer-chef relationship with many well-known Santa Fe restaurants. Romero Farms is now one of the largest vendors at the Santa Fe and Los Alamos markets.

What do you love most about local food?

Local food is so alive; it can be bought and consumed before food shipped in can ever leave its source. Maintaining health and vigor is one of the strongest messages local food can deliver.

What are some of your favorite places to eat and why?

Il Piatto and La Boca. They truly believe in local sourcing and are creating innovative concepts and cutting-edge flavors.

What's your favorite way to spend a day off?

On any hunt or vacation with my daughter and wife, or being on any lake at sunrise.


Do you have a serendipitous moment?

One day while driving home from the market I was overwhelmed with a deep sense of freedom, inspiration, and emotion, all springing forth from a true feeling that this choice to farm was the absolutely correct one, one that afforded me true freedom.

Tell us about your life outside of the farm.

I also am involved in our local acequia association (as president of Acequia del Llano in Dixon) and have spoken at the New Mexico Chile Conference and the New Mexico Organic Conference.

What do you love most about your work?

I love the outdoors the most when it comes to my work and my passion because it's the most beautiful place to work.

How did you get to where you are now? What's the backstory, and what was the moment that brought you to your current work?

I ended up in New Mexico after an attempt to lease a family-owned restaurant in Colorado fell through. I found myself without a home or a job—I had resigned to fully pursue the lease. My mother invited me to come stay in Española with her, to visit family and take a little time off. I met my wife that summer and two years later we were married. We became caretakers of her recently deceased grandmother's estate; ten acres of orchard, vineyard, and farm nestled up to the Rio Grande in Velarde. Soon I realized I could no longer pursue chef work as a way to make a living. I started farming with very little knowledge or infrastructure. That was seventeen years ago.

Fill in the blank:

The question people always ask me is: Why do you farm? But I wish they'd ask me: Why doesn't everyone farm?

If I had the chance, I would have lunch with John Travolta at Il Piatto. I'd like to ask him: Did you see me on the set of Wild Hogs when I delivered my chile roaster to the set?

If I weren't doing what I'm doing now, I'd be a fishing guide.

Most people are surprised to learn that I never attended college.

What makes you laugh?

The fact that my dog won't get into the bed when I'm in it, but the second I leave, she jumps in bed with my wife.

What gets you fired up?

Saturday farmers market. It's showtime!

Is there anything else you'd like to share with edible readers?

Yes. Organic farming is the perfect career. Both the farmer and consumer benefit each other directly. Both parties are mutually fulfilled. Romero Farms is humbled by all the support we have received from the edible communities.
Practices
Certified Organic